With my Dad – Jim Tressel (Everything a father and man should be!)
(And yes, he shares his name with Coach Jim Tressel)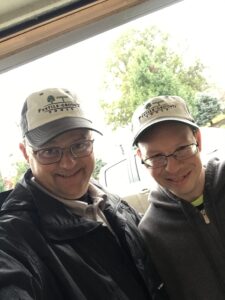 Here I am with my nephew Nick after I gave him a Fertile Ground Tools™ ball cap – Notice the SMILE! Nick has always been a big fan of his Uncle Tim and what he is doing. He has by far the most unconditional loving heart toward others that I know. Nick absolutely knows every tool in any Tool Catalog and every piece of machinery on any Job Site.
The TOOLing Around Tool Caddy™ is dedicated to him. A donation will be made yearly on behalf of Fertile Ground Tools™ to the Williams Syndrome Association Fund. This will help with the research of this genetic disorder. Keep smiling Nick!
Love, Uncle Tim